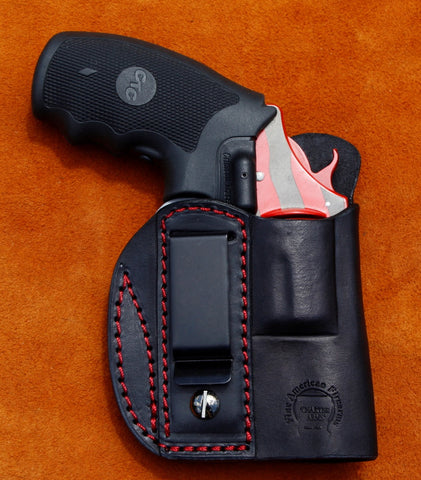 IWB Holster for Small Frame Revolvers
Charter Arms Small Frame 2" barrel  IWB's
Genuine leather holsters are made specifically for Charter Arms Small frame revolvers with 2" barrel fitment which includes:
2" Pathfinder
Undercover
Undercover Lite
Chic Lady
Southpaw
Undercoverette
On Duty
Off Duty
Holsters are 100% handmade in the USA and made of U.S. steerhide. Stitched in ten colors to compliment your firearm color & style.
These IWB holsters have an offset metal clip making them extremely comfortable for all day carry.  Available in left and right hand configuration.
Black or Chestnut leather
Stitching colors available:
Black, Siver, White, Tan, Red, Lime Zest, Purple, Pink, Turquoise, or Blue.
Made by ML Custom