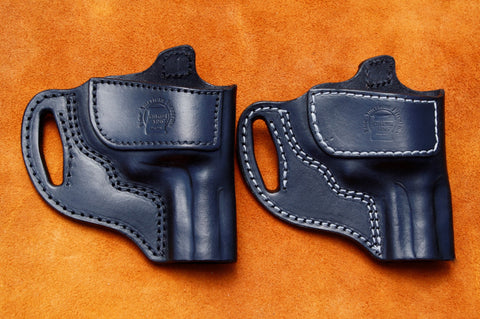 OWB Holster for our 2.2 - 2.5" Barrel Large Frame Revolvers
Genuine leather holsters are made specifically for the Charter Arms Large Frame Series Revolvers with a 2 - 2.5" Barrel, including  9mm Pitbull, .44 Bulldog, .40 S&W Pitbull, .357 Mag Pug and .38 6 Shot Police Undercover.
Holsters are 100% handmade in the USA and made of U.S. steer hide.
Holsters have a strap sewn and rivetted on back of holster for a second point of attachment providing a close fit to the body.
Available in black and brown and Classic Saddle Tan with 
Five different stitching colors to compliment your style.
Available in both left and right hand configuration.